Annabella Single Electric Breast Pump
Two piece single electric, closed system breast pump, portable and rechargeable.
After measuring, choose the right breast protector size for you
Made to simulate the baby's tongue movements, Annabella is the only breast pump in the world that replicates your baby's suckling. By mimicking the natural act of breastfeeding, the pump prompts the oxytocin and prolactin hormone, which increases milk production and releases it at a faster and more natural way. A mother's way.
Annabella is a single-sided breast pump, consists two parts, a closed system, portable, and chargeable. Annabella's battery provides two full hours of pumping without affecting its effectiveness. This allows for convenient pumping anywhere, and at any time!
The breast pump includes a soft silicone breast shield. Annabella's breast pump is the only patented adjustable breast shield in the market (ranging from 18mm to 24mm).
There are 9 suction levels to choose from, and 9 tongue levels. The breast pump simulates the baby's suction and wave-like tongue movement.
Simulating the baby's suction encourages the production of natural hormones the promote milk production and release in a pleasant and simple way.
Our breast pump comes with a night-light ring for nighttime pumping, making it easier for mothers to establish a pumping routine at night.
The package also comes with a bottle that holds up to 140ml of milk. The bottle is BPA-free, safe and easy to assemble. Can be washed in the dishwasher, and store milk in the refrigerator.
Our breast pump package includes two sets of washable parts, a massage unit (for controlling the pumping intensity), a vacuum tube, two adjustable, breast shields, two connectors, two diaphragms, two caps, two bottles, two bottle covers, a USB charger and instructions.
The washable parts (detailed in the manual) can be easily rinsed with water and soap. They can also be sterilized and cleaned in the dishwasher, boiled in hot water for 5 minutes, or with an electric sterilizer.
The Annabella breast pump operates quietly, even at higher suction levels, ensuring a pleasant pumping experience.
Annabella is ideal for mothers seeking a whole new world of pumping – groundbreaking and life-changing.
• Soft silicone. • Adjustable breast shield size. • Ring light for night pumping. • BPA free. • Dishwasher safe. • 9 suction levels. • 9 tongue speeds. • Long lasting battery. • Bottle 140 ml.
1 year warranty for the Annabella breast pump (45 days for silicone and plastic washable parts).

Please refer to your breast pump user manual for the most update warranty policy.

Please refer to our shipping policy for the most updated information.

Free shipping on purchases over 299NIS


The Softest Touch for the Smoothest Pumping Session Empty heading
Adjustable Breast Shield
Adjustable breast shield sizes 18mm - 24mm. Silicon covered for maximum comfort.
1
Connector
Washable and easy to assemble connector, connecting the body of the pump to the breast shield.
2
Tongue Level Adjustment Knob
Adjusts the breast shield size and tongue height (range 18mm-24mm).
3
BPA-Free Bottle
Safe and easily assembled 140ml bottle, for storing and collecting breast milk.
4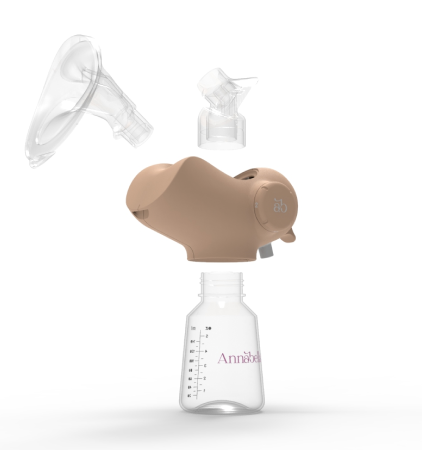 1
מגן שד מתכוונן
4 גדלים במגן שד אחד, עם כיסוי סיליקון מלא לתחושת שאיבה נעימה.
2
מחבר
מוודא זרימה ממגן השד אל הבקבוק. ללא BPA, מתאים לשטיפה במדיח.
3
כפתור גובה הלשון
מכוון את גובה הלשון ומידת מגן השד (בין 18 מ"מ – 24 מ"מ).
4
בקבוק
בנפח 140 מ"ל, ללא BPA, מתאים לשטיפה במדיח ואחסון במקרר.
Too easy to use
Easy 5 step set up - plus a night light!
Tongue
Simulating the baby's tongue to stimulate milk
Touch
The softest silicone covered breast shield
Tailored
Adjustable breast shield. Size range 18mm-24mm
Pleasant Baby Tongue Simulation
The Annabella pump is not only efficient, it's also very pleasant and most importantly - works smart. The movement of the baby's tongue simulation encourages milk production in an easy and faster way.
Adjustable Breast Shield
Using the knob attached to the pump, you can easily adjust the intensity and position of the tongue, and by doing so, also change the size of the breast shield. Forget about buying different shields until you get it right. Annabella is here to make your life a whole lot simpler.
Ring Light for Night Pumping
We know how demanding pumping can be. To ensure milk production, mothers have to establish a pumping routine. So, we've added the ring light, to make your night pumping easier. You deserve the best pumping experience.
FAQ
How is Annabella different from other pumps?

Annabella has a unique mechanism that replicates baby's suckling and tongue motion. By doing so, Annabella help stimulate the natural hormones that are responsible for producing and releasing milk from the breast in an efficient, pleasant and pain-free way.

What's my breast shield size?

You can learn more about finding your fit and adjusting your breast shield size in the link here.

Who can use the Annabella breast pump?

Annabella is suited to any mom that is looking for a pleasant pumping experience. Weather you've already used a breast pump and looking for a new and better product, or you are a first time mom looking for something different, Annabella is here to make your life easier and better!

How can I sanitize the pump?

You can either clean the breast pump's parts with soap and water, put the parts in the dishwasher or soak the parts in boiling water for 5 minutes. Remember! Annabella's parts are not safe for microwave sanitation!

Where can I buy the Annabella breast pump?

You can either purchase the pump online via our website or at any Shilav store in Israel.

Is the pump suitable for a hands free bra?

There are several brands that are compatible with the Annabella breast pump, such as Simple Wishes. To join the waiting list for Annabella's hands free breast pump you are welcome to click here.
A Boxfull of Surprises
1 massage unit
1 pump unit
1 vacuum tube
2 adjustable breast shields (18mm - 24mm)
2 vacuum seals
2 duckbill valves
2 bottles
2 bottle lids
1 charger
Instructions/manual